kink_bingo
time again! Internet, oh my goodness gracious, I cannot deal with how awesome my card is.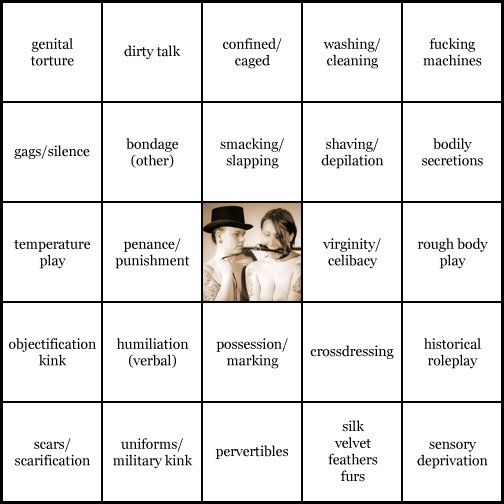 Like, "rough body play" alone is pretty much all of my major kinks (oh ho ho, a little military play for you there, Major Kinks), I did a little excited dance when I read the mod posts about it in the run-up. Man oh man.
But specifics, I have no ideas so far, although I'm looking forward to coming up with some. When I was doing the drabble challenge a few months back, one of the pairings

gloss
threw my way was Buffy/Ned Stark, and one of the ideas I was batting around a few days back, after beginning a reread of the SoIaF series, was Buffy and Giles in Westeros, passing through Winterfell on their way further north, and Cat, on initially hearing about her, being suspicious and not wanting to like her because she thinks she might be Jon's mother, then falling in love with her a little herself; I may play with that and the worldbuilding around the Slayer and "virginity/celibacy"? HMM. I'm thinking I might even go for a plus sign with both the row and column that's in. MADNESS.
"Washing/cleaning" immediately made me go to Anna and Mary, om nom nom. "Rough body play"...so very many IDEK how to choose. Probably some combination of my Avengers OT4, let's be real.
Hmm. LET'S DISCUSS, INTERNET, LET'S DISCUSS. Possession/marking is something I'm super into as well, too, I may need to do that, or else use it as my wildcard. Biiiiiiite maaaaaaaarks, ugh, so hot. Or try a companion piece to
could it be a devil in me
, because I want all of the "Thor fails terribly at consent play due to being way too cautious with tiny breakable humans" comedy. ALL OF IT.
Man I just can't even deal, my card is so rad. :D SO MANY OF MY KINKS, SO MUCH EXCITEMENT.
---